Lake Urmia: how Iran's most famous lake is disappearing
New research shows Iran's most famous lake has shrunk by nearly 90% since the 1970s. Scientists urge action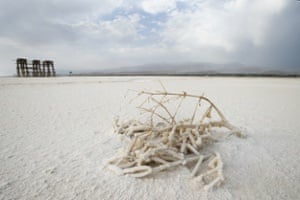 Historically, the lake attracted migratory birds including flamingos, pelicans, ducks and egrets. Its drying up, or desiccation, is undermining the local food web, especially by destroying one of the world's largest natural habitats of the brine shrimp Artemia, a hardy species that can tolerate salinity levels of 340 grams per litre, more than eight times saltier than ocean water.
Effects on humans are perhaps even more complicated. The tourism sector has clearly lost out. While the lake once attracted visitors from near and far, some believing in its therapeutic properties, Urmia has turned into a vast salt-white barren land with beached boats serving as a striking image of what the future may hold.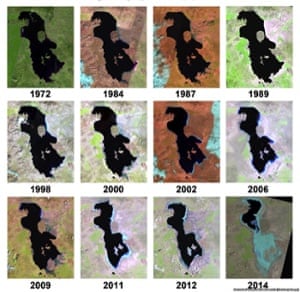 Desiccation will increase the frequency of salt storms that sweep across the exposed lakebed, diminishing the productivity of surrounding agricultural lands and encouraging farmers to move away. Poor air, land, and water quality all have serious health effects including respiratory and eye diseases .
The people of the north west – mainly Azeris and Kurds – are raising their voices. The Azeris, one of Iran's most influential ethnic groups and about a third of the country's population, venerate Urmia as a symbol of Azeri identity, dubbing it "the turquoise solitaire of Azerbaijan". The region is also home to many Kurds, who are demanding a bigger say in the management of the lake to improve the livelihood of Kurdish communities.
President Hassan Rouhani has shown he is listening, referring to Urmia during his election campaign, and subsequently promising the equivalent of $5 billion to help revive the lake over ten years. Solutions, however, require agreement on the main causes of the problem, and this motivated a group of concerned Iranian researchers in the United States, Canada, and United Kingdom to carry out an independent, first-hand assessment beginning in 2013. Because of the unavailability of reliable and consistent ground-truth data, the team used high-resolution satellite observations over the past four decades to estimate the lake's physiographic changes.
(source: http://www.theguardian.com)